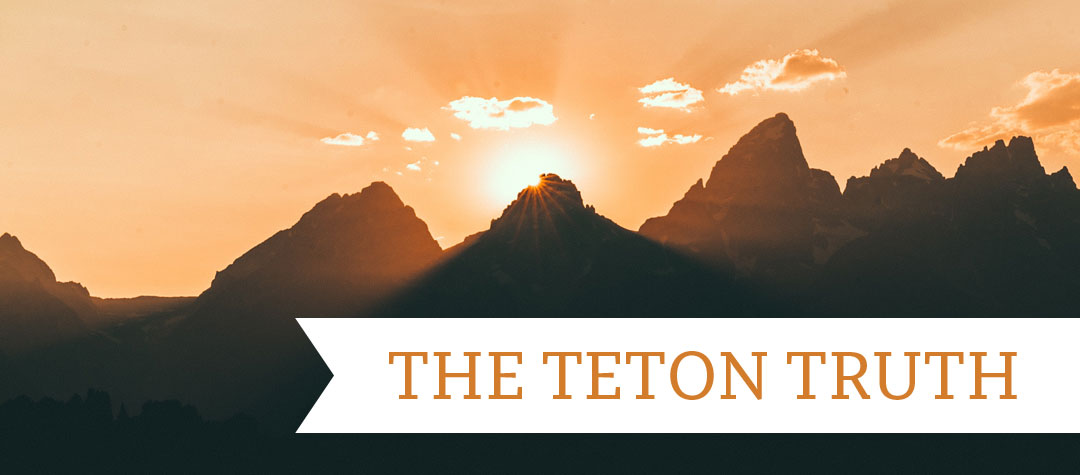 Let's talk guitars, shall we? Specifically, Teton Guitars.
I've been selling Tetons since day one, so you could say I'm invested. When you're in a sales job, trying to introduce an unheard of brand of guitars to your customers, you hear A LOT of excuses, objections and misconceptions… And when someone makes assumptions about something you LOVE, you want to defend that thing and clear the air about it. So, that's what I'm here to do.
1. The Pronunciation
Let's just get this out of the way, once and for all. It's pronounced TEE-TAWN. Not TEE-TUN. Not TI-TAWN. TEE-TAWN. Why is this a big deal? Well, it's like someone mispronouncing your name. No one likes that. We named this guitar line after a mountain range that we all grew up with. It's literally in our backyards. We grew up there. We dream there. We vacation there. We hike there. Some of my best memories are in Grand Teton National Park. Just say the name right.
2. Our Factory
There's been a lot of talk over the past few years about the conditions in guitar factories around the world. Teton Guitars is owned by Chesbro Music Company in Idaho Falls, Idaho. We are a family owned company that has been in operation since 1911. We are still run by that same family that started this business over a century ago. We place a lot of value on treating people like they're part of our family. Because of those values, we partnered with a small, family-owned, factory in China. I know. When you hear the words, "factory in China". I know what you're thinking, and you're wrong. This factory is run with the highest of standards. And we don't just take their word for it. We've visited the factory on numerous occasions and have always found working conditions to be superb, to say the least. These highly skilled workers are treated like family and some of them actually ARE family. Teton Guitars believes in fair working conditions for all and we put our money where our mouth is by using the best factory we could find.
3. The Design
Often times, when you're purchasing a guitar, you're getting an instrument that has been designed by the "design team". That's their job…to sit around and design guitars. Our guitars are designed in a pretty unique way. They're designed by people who use them and people who sell them. Who better to design your dream guitar than the person who listened to you or to the owner of the store where you shop? We ask for feedback from our employees. We ask them to tell us what they would like to see or what their customers would like to see. Nothing is too extreme or too out of the box. Our guitars aren't about what's trendy or fancy. They're specifically designed with the end consumer in mind.
4. The Pricing
We all know the phrase, "You get what you pay for". It's logical to assume that if you want a high quality guitar, you have to pay a lot of money for it. At Teton Guitars, we want you to have the best bang for your buck. We're pretty proud of the fact that we don't sacrifice quality of sound just to make something more affordable. And really, why can't you have a high end guitar for a great price? We know you want something that's going to sound amazing, look stunning, and keep a little cash in your wallet. We're all about affordable excellence.
5. The Depth of Product
This is a double edged sword here. Too many products? Too few? We've heard both. We want to make sure that you have what you need. We carry acoustics, acoustic-electrics, ukuleles, and electrics. We are working on some pretty cool new stuff that we can't even tell you about. We try to make sure we pay attention to the market and to what our customers are asking for. Granted, we can't do everything, but we try to be innovative and yet still make those bread and butter guitars that we all love and use. You can be assured that we are working daily to find the best woods, the best sounds, the best shapes, and the best features that we can.
6. The Company
I've often been asked, "So, you distribute Teton Guitars, right?" or "Teton and Chesbro are different, right?" Wrong. We are Chesbro Music AND we are Teton Guitars. Teton Guitars is owned by Chesbro Music Co. We are one and the same. Why is this a benefit to you? Well, to put it very simply, we have over a century of experience in the music industry. We've been around for a long time and have extensive knowledge of the ebbs and flows of this crazy roller coaster we call the music business. In addition, our employees are musicians. They actually USE the products they sell. We don't hire suits to answer the phone and sell you things. We hire people who love this company and this industry and work hard to make sure that we know what we're talking about. When you call in, we can promise you that you'll talk to a live human being. We can promise you that these live human beings will have an extensive knowledge of our products, our services, our warranty, and our company. We can promise you that their only "motive" is to make sure that you are getting exactly what you want and need for a price that you can afford. We can promise you that if we don't know the answer, we'll find it. We can promise that if we don't have what you're looking for, we will know where you can find it. We can promise you that your experience with Teton Guitars will be positive, and we daresay, refreshing. We're not like everyone else and we take a lot of pride in that.

This guitar line isn't just what we do, it's who we are. It's every ounce of love, experience, freedom, passion, whimsy, strength, and beauty that we carry in our souls. It's our escape from the everyday world that we live in. When we go to the mountains, it's a safe place for us to express who we are and what we feel. All we've ever wanted to do is bottle up that feeling, put it into a guitar, and share it with the world. At the end of the day, we're just a guitar standing in front of a guitar player asking you to love us…because we love who you are and who you want to be.

– Katie Jennings-