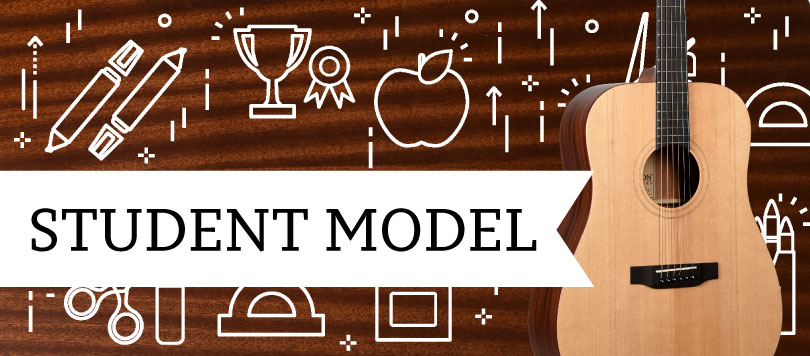 Here at Teton we have always had one philosophy that drives what we do. We want to make guitars that standout from the crowd and that everyone can afford. I think we've been exceptional at accomplishing this. Over the past few years a number of things have happened that have required us to increase prices on our instruments. Raw material and labor costs have increased. Tariffs have been placed on Chinese manufactured products. Shipping costs go up year after year. All of these mean that we have to raise prices to be able to keep the lights on here at Teton Basecamp.

Once our base models, like the 100 and 105 series crossed the $300 mark I knew that we were outside of the student guitar price range. Most parents/new students do not want to spend over $300 on an instrument for a beginner. I have heard statistics that say nearly 90% of beginning guitar players never make it past a beginner. I totally understand why parents/new students do not want to make a heavy investment until after they know the student will continue with the instrument.

Teton needed to make something that fit into the sub $300 range that offered students a guitar that they could grow with. It has been scientifically proven (not really, but it makes total sense) that a student will stick with their instrument longer if it plays well and feels nice. Also, sounding good is a big key to that equation too. All of this lead to the development of the STS10NT.
The STS10NT needed to be a trimmed down Teton, without cutting any corners that would make the guitar less of a Teton. We have a reputation for providing high quality instruments. The STS10NT needed to keep that reputation going within the beginner market.

There are things that add cost to the guitar that I decided to remove from the 10. No body binding, no inlaid rosette or Teton logo, using techwood in place of laurel wood on the fingerboard and bridge. All of these things brought the price down, but not the overall quality.
The 10 still uses a solid sitka spruce top. The back and sides are still layer mahogany (mahogany/poplar/mahogany). The #1 "must have" for the 10 was that it must have the standard Teton tone, which we describe as being "as big as the mountains."
We've accomplished this, without question. The STS10NT has a wonderful, rich tone that people have come to expect from Teton.

Here at Teton we call this guitar the "Student" model. Mostly because of the price point the guitar hits. I have the feeling this guitar will be played by lots of musicians at a multitude of skill levels. I would not be surprised at all to see a 10 up on a stage with seasoned musicians. It sounds that good. Just because it is simplistic in design does not mean it is a lower end guitar.

There is always a lot that goes into our guitar designs and choices. Needing a step up from the 'student' model in features and price? The 000 series is a great option.

Till next time,
Ben
Send questions or comments to ben@tetonguitars.com