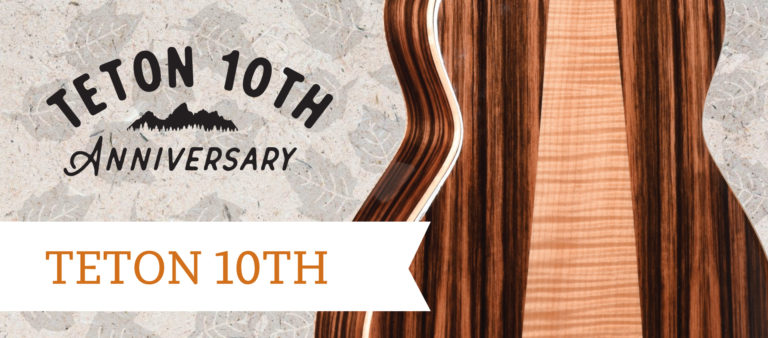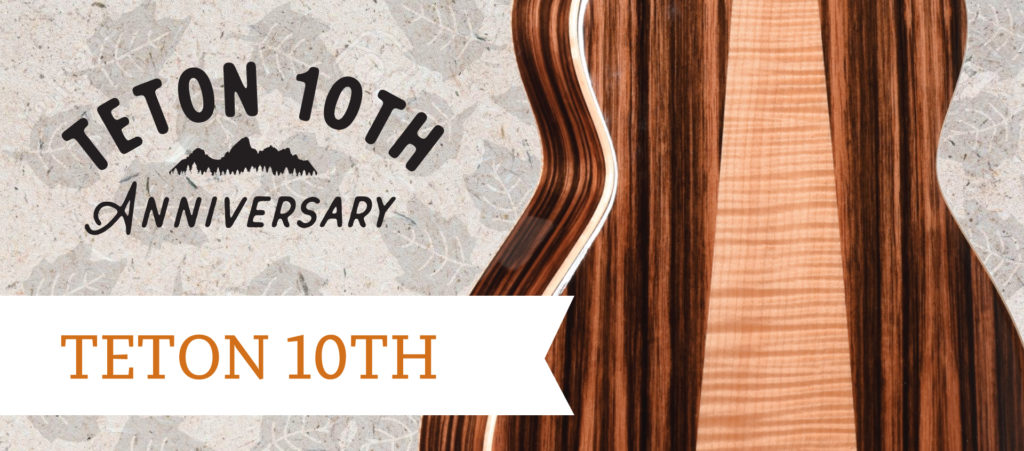 Wow! 10 Years! It does not feel like 10 years and at the same time it feels all of 10 years. All at the same time. I am lucky that I saw the very first days of the Teton brand. I have seen the ups and downs of all 10 years. To be perfectly honest, 10 years is how long we have been selling Teton to stores. We started the process about 18 months before the first guitar shipped out of our warehouse.
In 2009 Terry Orme and I were looking at finding a Spanish Classical guitar company to distribute in the US. We had spent most of that year checking out samples and meeting with manufacturers. We had made some wonderful contacts and had seen some very beautiful guitars. We were not finding anything that would fit in with our market. The prices were very high due to the US Dollar's position against the Euro at the time.
At the January 2010 NAMM show we were continuing our meetings with Spanish and other European classical manufacturers without much success. Early on with a Friday or Saturday morning (NAMM shows feel like one long day and it is hard to tell what happened which day, even when I talk about last years show and it only gets worse discussing a NAMM from 10 years ago. And alcohol has nothing to do with this. I don't drink. It's just the nature of NAMM). Anyways, on either Friday or Saturday morning I had arrived early to clean up around the booth and tune and polish guitars. As I was cleaning, Terry came up and said that he had met a manufacturer from China making very nice classical guitars. We had not even thought about looking at Asian made classicals.
He walked with me down to a booth in Hall E (the basement of the NAMM show) and there we met Eileen. She is the daughter of the factories owner. She showed me the classicals that they were producing. They were as nice as any of the Spanish guitars we had been looking at. She explained that their luthiers had been trained by Spanish builders and that they were using classical manufacturing techniques to produce the guitars. Terry and I knew that we had just reached the end of our search.
After returning from the NAMM show we started the process of creating the specs for four classical models. We went back and forth with the factory during this process to make sure we were making guitars that would fit in well in the US market. After a few months we received our first prototypes and they were wonderful.
At the very end of 2010 we received our first production of the four original classical models. We sold 23 guitars before the end of the year.
We had a great response to the classicals to begin 2011 and all the stores started asking, "When are we going to get acoustic guitars?" At this point the factory we worked with only made classical guitars. A group of us here at Teton Basecamp started working on the specs for a steel string acoustic model. We spent a lot of time working with the factory as we both learned how to build an acoustic guitar. Again, at the end of the year we had a sample of what would become the STS105NT.
The prototype was fantastic. It sounded amazing. We worked up 4 or 5 more acoustic and acoustic/electric models and submitted them to the factory. At the beginning of 2012 we had a nice little lineup of classical, acoustic and acoustic/electric models to present at the Winter NAMM show. The STS105NT was selected by one of the trade magazines as a show spotlight because of its quality for the price.
So here we are two full years into our first 10 years of Teton history (which is closer to 3 full years of our 11 history). This was how we started. There were other events that happened during this time that allowed Teton to find homes in guitar shops all over the Western US, but that is another story that I will probably never tell. But because of those events and because Teton Guitars were amazing instruments for the price, we were able to get Teton in front of guitar players.
I still have 8 years to go in our history, but I can't keep going now. I have other things to do, and at this point things start to get fuzzy in my head. Eight years ago does not seem like too long ago, but it kind of is. I have to look up when models were introduced, when the infamous factory fire happened, when we made adjustments to our tops and neck profiles. Things like that get hazy, there are too many to remember the exact details. But I will try and continue this saga and research dates so I can continue to tell the story of Teton.

Ben