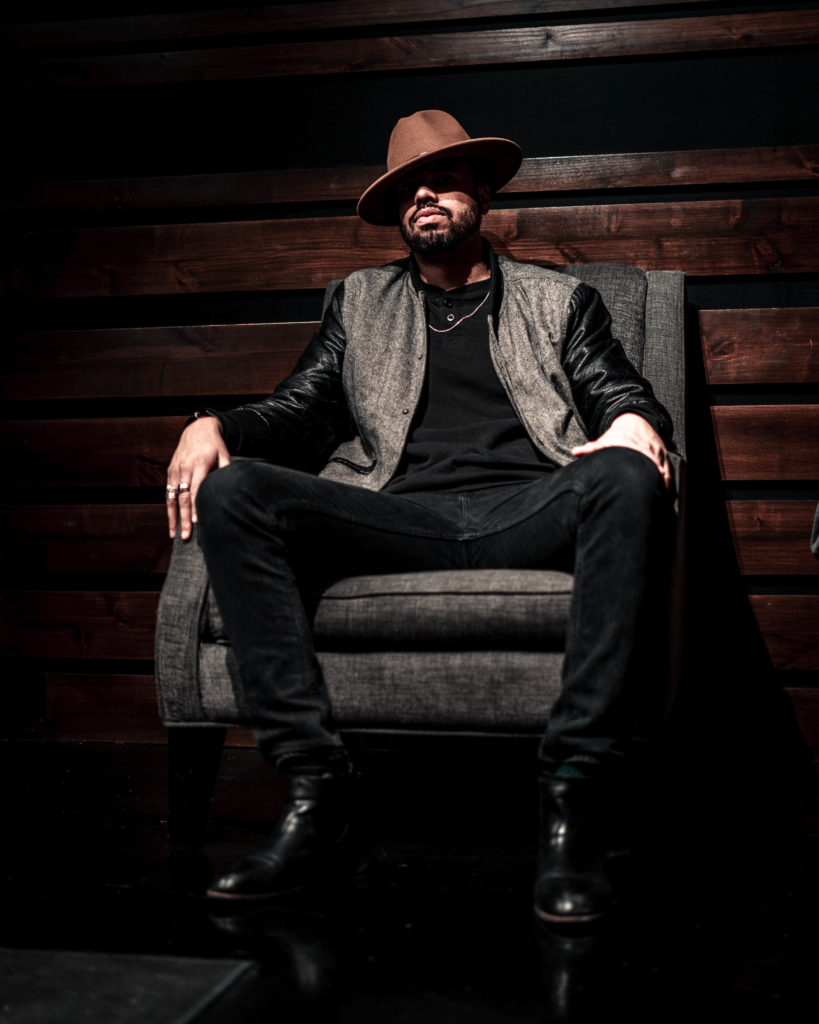 "I stumbled upon my first exposure to Teton guitars while backstage in our greenroom at KeyBank Pavilion in Pittsburgh Pennsylvania. We had just begun our tour with Hootie & the Blowfish and the Barenaked Ladies and I was warming up with the artist I was playing lead guitar for named Jocelyn. She had a Taylor and a Teton so initially out of familiarity, I went to pick up the Taylor to give it a test drive. We began to play together and as soon as I heard her strum the Teton, I was overcome by its bright, clean, and full tone, something I have always been looking for. I asked to play it and from there I was sold. The feel of the neck was very comfortable, it played very easily and quick which is something I like as both a rhythm and lead guitarist. Over the course of the tour I continued to play the Teton, jamming with Darius Rucker and other members of Hootie and the Blowfish who also complemented the tone of the instrument. When I was finally connected with the company, it all just seemed to make sense. Everyone was very kind and genuine and I got the sense that this company was definitely something special. When they asked if I would be interested in joining their roster of artists, I felt that there couldn't be a better fit! I'm really looking forward to seeing what songs I'll be writing and recording with these guitars, and also look forward to seeing what adventures I will be able to take these beautiful pieces of art on!"
BIO
Sebastian Lane is a fierce young guitarist whose roots dig deep into music history. He is the grandson of Blues Hall of Fame legend, Jimmy Rogers, who gained prominence as the guitarist for Muddy Waters before starting his independent career with Chess Records. Sebastian's father is blues-rock hall of fame artist Jimmy D. Lane, who has played with the likes of Eric Clapton, Mick Jagger, Jim Keltner, Keith Richards, B.B. King, Van Morrison, Jonny Lang, Gary Moore, Double Trouble, Taj Mahal, Stephen Stills, Jeff Healey, Lowell Fulson, and Snooky Pryor, Kim Wilson, Pinetop Perkins, Johnnie Johnson, Kim Wilson, Robert Plant, Jimmy Page, Little Hatch, Willie Kent, Henry Gray, Lazy Lester, and of course his father, Jimmy Rogers; just to name a few. But, the truly fascinating thing about Sebastian Lane is that music is actually just his side hobby. His day job is balancing a future career in medicine. He is currently a medical student at The University of Nebraska Medical Center and will graduate with his M.D. in 2020.
Sebastian has played for several different artists throughout his career, including Omaha based artist Jocelyn who he recently finished touring alongside Hootie and the Blowfish and the Barenaked Ladies with July-August of 2019. In 2018 he finally deciding to focus more on his individual songwriting and developed the Sebastian Lane Band. This group is a modern age rock band with obvious influences from Sebastian's deep heritage in the blues. Their goal is to keep entertaining live rock, southern rock, and blues music around for his generation who has for the most part, forgotten about this. The group features Sebastian on Vocals and Lead Guitar, Ben Curran on guitar, Dain Armbrust on Bass, Kevin Fries on drums, Mitch Towne on keys, and at larger events and festivals will often include a horn section with Shawn Bell on trombone, Chris Catignola on saxaphone, and James Cuato on Saxaphone. Several of these musicians made their start through the Omaha Blues Society and their program called Blues Ed. Ben currently studies guitar and was accepted into Berklee College of music. Both Dain and Kevin have made a name for themselves playing for several different Omaha and Lincoln based blues bands over the years. Mitch Towne is a prominent keyboardist in the area and has worked as a session player for many artists.
They released their debut album "Walkin' By Myself" in July of this last year which featured both Eric Gales and Christone "Kingfish" Ingram. This has landed them opening spots with acts like Jimmie Vaughan, Robert Randolph, Marcus King Band, Eric Gales, Joanne Shaw Taylor, Christone "Kingfish" Ingram, Indigenous, Anthony Gomes, Albert Castiglia and many others!
Sebastian was recently nominated as both "Artist of the Year" and "Best Blues Artist" in the Omaha Entertainment and Arts Awards, with the winner being announced in February of 2019. Their album has gone on to top various blues and rock charts and has accumulated over a quarter million streams on Apple Music and Spotify across over 30 different countries