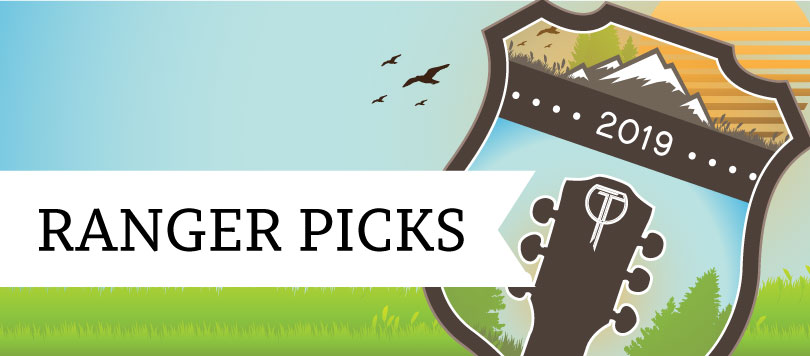 Have you met our team of Teton Rangers? This loyal group of Teton fans were hand chosen by our team. Not only because they play Teton, but for their values, their hustle and most importantly because of the relationship we've built with them.
Most of the Rangers came to us via social media and the dialogue began as they tagged us in photos and videos. From there it grew by messaging back and forth and even a few in person visits.

I asked the crew what their top albums or songs of 2019 were. That's always a tough question, (as you can see a few could not choose just 1) but they gave me some new tunes to listen to and a few favorites to revisit.
Check out and follow each of them by clicking through here: https://tetonguitars.com/teton-rangers/
Let me know if you find any new Artists on the list you hadn't heard before. Maybe tell me what YOUR favorite album or track of 2019 has been?
Keep strumming,
-Jenn

Send questions and comments to team@tetonguitars.com
Kim Bachman "The End of the Row" Adrienne Young
Matt Janson "Fear Inoculum" TOOL
Elisa Janson "Wasteland Baby" Hozier
"Collaborations" Ed Sheeran
Moose Wylson "The Question" Anna Tivel
"Front Porch" Joy Williams
Steve Cochran "Native Tongue" Switchfoot
Ashton Butler "What You See is What You Get" Luke Combs
Roman Romero "Sound & Fury" Sturgill Simpson
Katie Donnelly "Wide Eyed" The Jason Spooner Band
Adam Klinger "Ode to a Friend" Old Sea Brigade
Mitch Gray "Wilder Woods" Wilder Woods
Bradford Huntsman "The Only Ones" Milk Carton Kids
"Evening Machines" Gregory Alan Isakov
Clayton Smalley "Ain't Nothin To It" Cody Johnson
Chelsey Stallings Anything by Maren Morris or George Strait
Al Deans Anything by Drusky
Laramie Holtman "Hindsight" Joey Landreth
"Patrick Droney" Patrick Droney
Emily Alber "Tip of the Sphere" Cass McCombs
Ron Greene "This Land" Gary Clark Jr.
John Morgan "Tides of a Teardrop" Mandolin Orange
Emily Nielsen "The Highwomen" The Highwomen