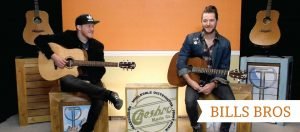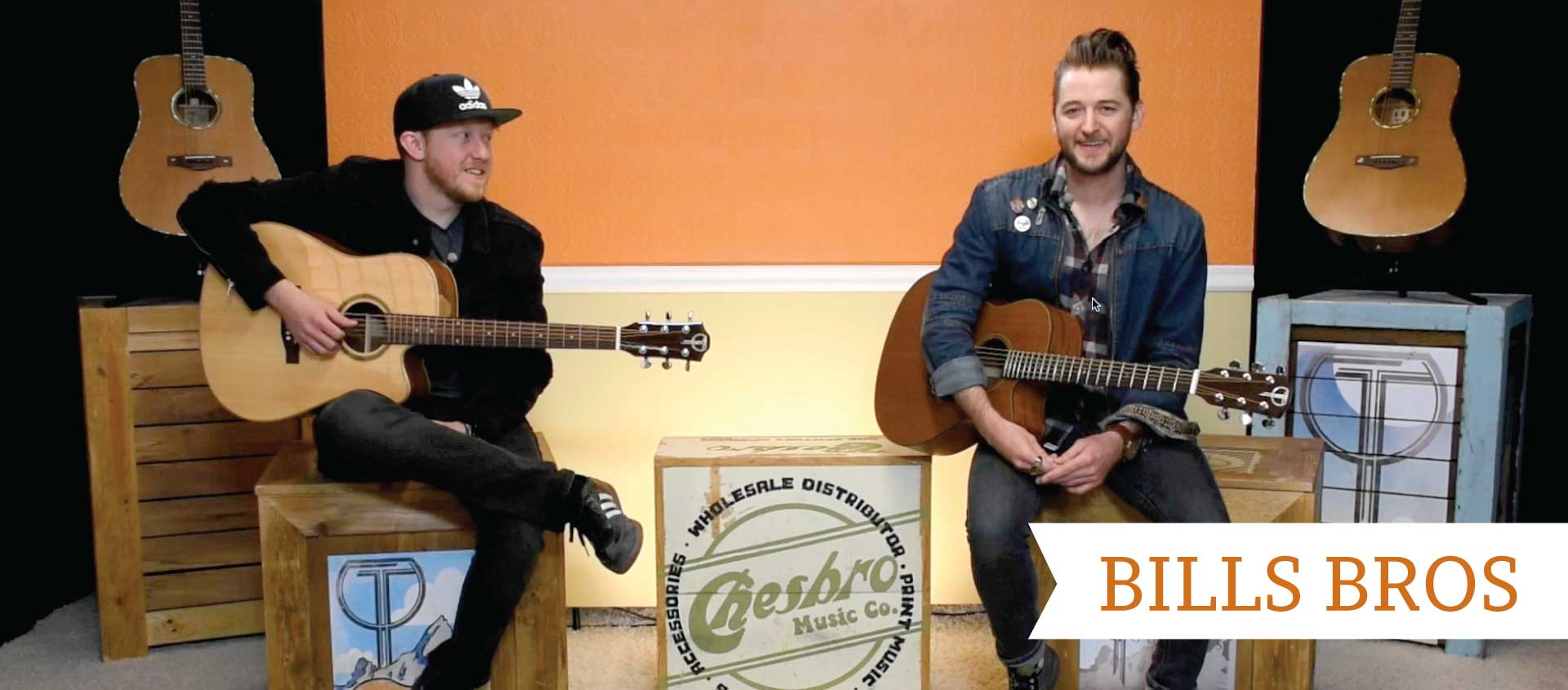 It was such a joy to sit down with Tyler and Devin Bills when the visited the studio last month. Their duo project The Bills Bros and rock group Judd Hoos both showcase the amazing talent they have and the depth of their skills. We can't forget about Tyler's solo acoustic EP, which is a basecamp crew favorite. Check out their bios for more details and where to keep up with them.
Keep strummin',
Jenn
– We know your family is really into music, especially your Dad. Tell us a bit more about how he got you into playing music of your own.
T: Ever since I started playing guitar, I had a framed picture of my dad's college band up in my room. I wanted to be like him. He instilled in me this desire to play music in front of people. So, after he bought Devin and me guitars and a PA, we started the family band and have never looked back. I still have the framed picture hanging up.
D: Our dad used to play in bands back in the mid 80's in Salt Lake City and so the "live" music bug got passed down to Tyler and me. He would play hair bands, like Cinderella, Bon Jovi, Def Leppard, Van Halen, etc, on Sunday morning during chores. As soon as Tyler and I were in high school, he went out and purchased a drum set, a PA, and everything we needed to play out. After that, we entered a local Battle of the Bands, first show, and won! We continued playing with Dad after that for a while until, we all agreed, we needed people our own age in the band. He continued managing it after and has always had his best interest in our musical career.
Our mom had a huge part in getting us into music as well. She would always have Tyler, Mason (our little brother), and me sing at the piano growing up. Kind of a "Von Trapp" thing at parties or when company came over. She sang in church and played the piano and we were always right behind her. Mom always encouraged us to play or sing whenever we had the opportunity.
– Who's the better cook, Devin or Tyler?
T: I would say for mom's home cooking, Devin takes the cake. But I am pretty confident in my cooking skills. I really enjoy cooking!
D: Tyler thinks he's a pretty snazzy chef, but I think I have a wider menu.
– Favorite Star Wars movie?
T: Return of the Jedi.
D: Empire Strikes Back. Makes you love the Dark Side.
– It's Friday night and you're at the local watering hole; what's your go to drink?
T: Firewater. I like a good glass of whiskey.
D: Best Local Brew, IPA, Porter or Stout. If hard liquor, Gin and Tonic with Lime.
– Monday morning and needing a pick me up, what's blasting from your stereo?
T: Dirty Heads! Or a feel good playlist from Spotify.
D: "I Want to Break Free" by Queen.
– Tacos or pizza?
T: Tacos.
D: Tacos, but really both…..
– Blue or Red?
T: Blue.
D: Blue – NERD ALERT, because when Pokemon came out, Tyler got Red and I had Blue.
– Biggest musical influences?
T: My parents, Bon Jovi, Eric Clapton, the blues.
D: Mom and Dad are big for just getting me into music. But I really love the band Vulfpeck's, bass player Joe Dart. Love his playing. I love Dan Auerbach's (Black Keys) stage presence. The Eagles were an influence for Tyler and me, both the vocals and songs.
– Easiest place to write new tunes?
T: My home office/living room is where the magic happens.
D: I think being at home with a guitar. Just relaxing and letting whatever comes out, come out.
– Favorite place to travel?
T: Teton Valley, Idaho!
D: Driggs, Idaho. Teton Valley is seriously the best. Heaven on Earth.
– Road trip or plane ride?
T: Road Trip.
D: Plane ride. My body odometer is already really high. I like flying.
– Most listened to album of your childhood?
T: Joseph and the Technicolor Dreamcoat.
D: I listened to a lot of Disney songs as a kid. Through high school, I listened to the Red Jumpsuit Apparatus album with Face Down on it. That CD was always in my old green Honda Accord. That, and Blink 182's, Take Off Your Pants and Jacket.
– Where did you grow up?
T: Colorado.
D: Tyler and I grew up all around Colorado. From Grand Junction, down by the Colorado National Monument to suburbs around Denver. Colorado feels like home.
– If you could take 1 item from your tour van to another galaxy, what would it be?
T: I am always reading on tour. So probably the latest Star Wars book I am reading.
D: A guitar. I think it would be the smartest! Then you could play for more people, or play for yourself.
– Most iconic song to sing around the campfire?
T: Don't Stop Believin'.
D: I feel like the classic answer to campfire songs is Kumbaya, My Lord. I always love playing some John Fogerty tunes-makes it fun! Have You Ever Seen the Rain, or Bad Moon Rising.
– What is the venue you see yourself playing in 5 years?
T: Red Rocks!
D: One of my goals, and hopefully it happens in 5 years, is to play at Red Rocks Amphitheater with Tyler.