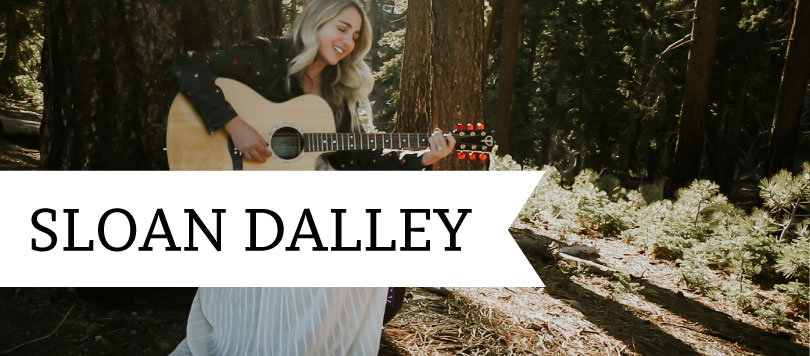 Sloan and I first met years ago when her Dad started carrying Teton Guitars in his music shop. It was a friends at first site type of thing. This girl was vibey as heck and a killer musician. Several years later, after she'd moved to Cali and back again to Idaho, we reconnected and decided as a team Sloan was the perfect fit for our Artist Team. Check out her bio for more details and don't miss her IG stories, cause this girl is funny! I can't wait till we can hang out in the studio again, I always leave feeling inspired.


Keep Strumming,
Jenn
Pizza or Tacos?
Tacos. Tacos. Tacos.
How many times have you been to Disneyland?
Honestly, probably over 250 times.
When did you first pick up the guitar?
In the 3rd grade. I had never played before, and a girl in my class told me she wanted to learn. I replied, "great! I'll teach you!" I ran home and told my dad he had one day to teach me everything about guitar so I could teach my friend the next day. The next day she forgot all about wanting to learn , and I couldn't get enough of playing the guitar. The rest is history.
At what age was your first public performance?
Before I can remember. I started going to my parents' gigs when I was just a few months old. As soon as I could crawl, I was up on stage with them. When I could carry a tune, I started singing backup vocals. I have pictures of me singing in cowboy bars at the age of 3/4.
Your parents are both musicians and you spent a lot of time at their shows. Was it hard growing up with those late nights?
Not at all. It was a party! Most three or four year olds spent their weekends at the park. I spent mine on the dance floor teaching cowboys how to line dance. I loved every second of it.
Are your siblings musical?
They are! Growing up, we would tour the country playing as a family band. We played huge venues and fairs and spent our entire summers on the road.
You've got 2 little boys; are they into music yet?
Decker helps me in the recording studio and has named several of my tracks. He is an amazing singer, and I swear he has perfect pitch. Madex just started showing an interest in singing, but doesn't have any interest in any type of structured music time. He's more of a, screaming Frozen 2 songs while upside down on the monkey bars, type of kid.
You recently shifted your music career. Tell us about that choice and process.
Yes! I just got into the world of sync licensing! It's been my dream since I was a little girl! I remember watching shows or movies and all I could think about was, "how can I get my songs in shows like this?" Well, that's literally what I do now. It's the perfect career for me because it lets me work from my home studio doing what I love. I literally get paid to create music. From my home. Pants optional. Could it get any better?
You're in Idaho, like we are. What's the best part about living here?
Idaho is beautiful. It's such a great place to raise a family and start a business.
How did you first encounter Teton Guitars?
My dad and I were looking for quality guitar brands to carry in our humble guitar shop. We wanted something that was unique, budget friendly, and represented Idaho and the beautiful state it is. I don't remember exactly how we stumbled across Teton, but the second we played one, we were smitten. The brand was everything we ever wanted to carry. We felt so proud offering Teton to the people of Pocatello.
Would you consider yourself nerdy?
Definitely. I take pride in my nerdy-ness.
Favorite artist of all time?
Eminem, Led Zeppelin, Johnny Cash, Civil Wars, Billie Eilish
Best place to write music? Do you like to work solo or co-write?
I'm all about solo writing. I'm a major introvert and I love creating by myself. Also, my favorite place to write is the shower….soooo…no co-writing there.
What's the song you can always come back to? The one you know all the words and music to.
Lose Yourself or Without Me by Eminem
(Also 5,000 Candles in the Wind)
What's your 5 year plan looking like? Is music the end game for you?
I just started Sloan Dalley Music Publishing, and in 5 years I hope to have tons of successful sync placements in the books, and I also want to take on some clients and help them get their own music into shows/movies/advertising. That's really the endgame for me. Doing what I love, and helping others do what they love.