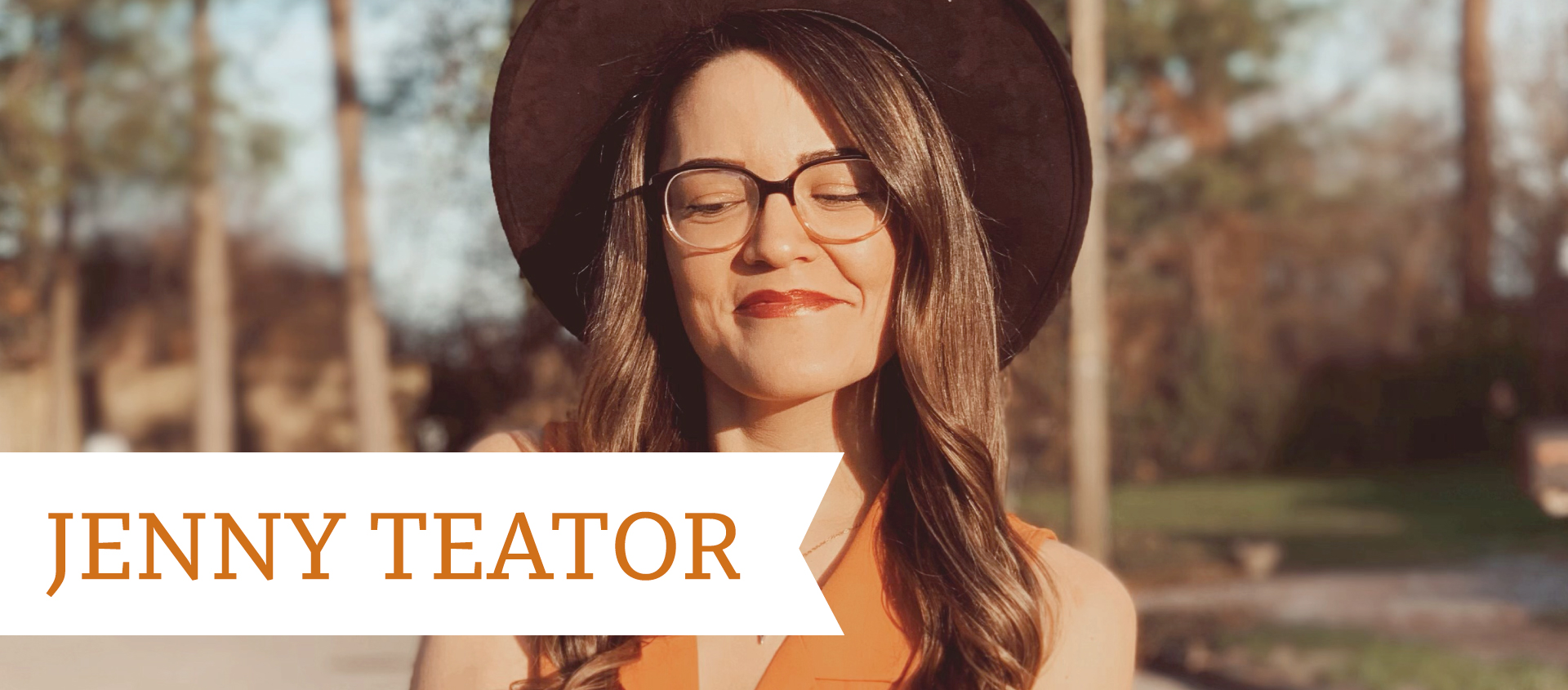 I met Jenny Teator last summer in Nashville at the Summer NAMM show. She was blitzing past our booth, turned on her heal and said, "how do you say that?"

"Tee-Ton" I emphasized.
"Teator" she said, pointing to herself, then "Teton" pointing back to our banner. "I think I need to check out your stuff, cause it sounds almost the same."
She came back several times over the next few days and we just really hit it off. She's crazy talented, our guitars are crazy good and the rest, as they say, is history.

"Teator" she said, pointing to herself, then "Teton" pointing back to our banner. "I think I need to check out your stuff, cause it sounds almost the same."

– Jenn
Comments or questions, email team@tetonguitars.com
What's the first song you ever learned on the guitar?
When I first started learning guitar I really liked Michelle Branch. Her song "goodbye to you" was my FAVE! So I quickly started learning the chords to that one..

Was guitar your first instrument?
No, the violin was the first instrument I learned through school. Then the typical next few… cello, flute. I guess the VERY first one everyone went through was the recorder haha oh those were the days…

How long have you lived in nashville?
It will be two years this June!

Why did you decide to move there?
To pursue music. I had always played music and had a band but it was never FULL TIME, ya know? We all had other jobs and it was more of a passion hobby. But I moved here to actually do the damn thing. Life is way too short to do something you don't enjoy. I'm the happiest I've ever been.

Is your family musical?
No, my great grandma played piano… but that's about it haha. My sister was in choir growing up so I watched her sing and fell in love with it. Music was definitely around me growing up, my dad would take us to concerts but nobody in my family played an instrument or performed.

Do you have any siblings?
Yes, one older sister!

What's the best taco of all the tacos?
OH man that's so hard…. my favorite style is a street taco which is corn tortilla topped with cilantro and onions and meat of your choice. Breakfast tacos though… that's where it's at.
It's hard to just choose one, there's so many variations you can do with a taco!
I don't discriminate. 🙂
Black is obviously the superior color, but what's the next best thing?
My go to is black… but also red. Love red! I do red lips a lot too. But… cant forget about the gold/glitter. My gold glitter boots are a staple in my wardrobe!

We met you in 2018 at the summer namm show. Will you be back for the 2019 show?
Yes! 100% will be there. 🙂

If you could have dinner with any musician, living or dead, who would it be?
This one is tough… I'll have to say Susan Tedeschi though. I just KNOW her and I would get along so well on so many fronts! Love that girl, we will meet again some day- mark my words.

You just spent a couple of weeks picking out your Teton guitar. Can you tell us a little about the process of playing each one to decide which fit you best?
I was really looking for a warmer sound. All three were great, but the one I picked had the best sound! Being a dreadnought helped as well because it was bigger and I used to play a parlor so I wanted something bigger with more warmth. Also, right away it's like "when you know, you know!"
I picked up the STG105CENT and played a few chords and knew right away it wasn't the one. It was really hard to decide between the other two, but the rosewood sides immediately stood out to me cosmetically but also I could tell with the wood difference that the sound was more warm and full. Which is what I wanted! I played the two guitars over the next few days and my gut was still just telling me to pick the 155CENT.
I am in love and in case you were wondering… I named her Bonnie. 🙂 We are happy together.