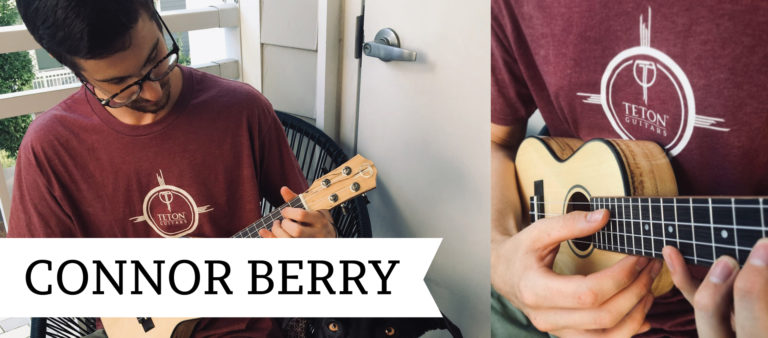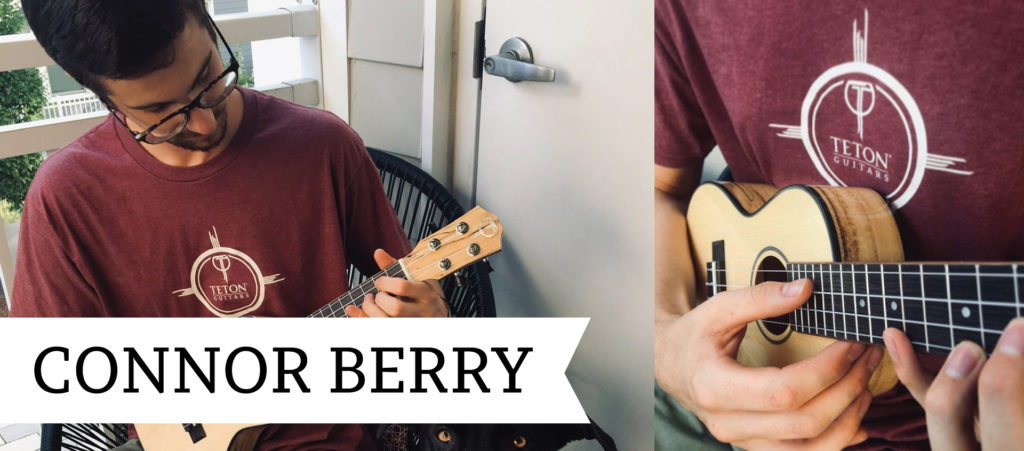 I first discovered Connor on Instagram, as I find so many fans of Teton Guitars. Except this time, to my delight… I found a skilled ukulele player! Immediately drawn to his percussive style and fantastic fingerstyle covers, I was hooked. Most of Connor's YouTube channel features our solid body, electric uke. These instruments are no longer in production and now you can find Connor rocking on one of our Spalted Maple Concert size ukes. 
Follow his channel here and learn a bit more about this uke virtuoso below.
-JENN

Send questions or comments to team@tetonguitars.com
What is your quest?
To be as happy as I can be! Cut negativity and do what makes me happy. Right now playing music is what makes me happy 🙂
What is your favorite color?
I flip flop on this often, it's usually a tie between Red and Green. However around Christmas I enjoy them both equally.
Who are your biggest musical influences?
Probably my middle school music teacher Mrs. Lamb. She always challenged me to do more than was required. I was sort of a music recluse otherwise. I didn't buy my first CD until I was 23! So no single band or artist shaped my music style.
Did you start by playing the uke or a different instrument?
The uke was my first love but second instrument. I played the viola for a second in middle school. This taught me just enough about music to appreciate its complexity and simultaneous simplicity. I don't play the viola anymore, like I could pluck out a melody but would have no idea how to actually read music, because I've forgotten how to read music.
It's Friday night, are you headed out to see a movie or catch some live music?
Friday? Ha! I'm likely working my 11-11 ED shift at the hospital. When I'm not doing that I'm inviting friends over for games and a casual hang out. But if I had to go out it would be to a movie. While I love music I don't like it too loud.
Pizza or Tacos?
Pizza 100%. The first thing I looked up when I moved to Boston was "Little Caesars near me". I'm a sucker for the convenience and value of a "hot 'n' ready" pizza.
Is there a genre of music you're really drawn to?
In my personal listening I listen to mostly JBoog style reggae. But honestly I can appreciate nearly all genres.
What inspired you to teach others to play uke on YouTube?
I wanted to step up my own uke playing by doing fingerstyle. I'd seen career dedicated ukulele players play amazing things but no one was explaining what they were doing! So I took matters into my own hands and begun creating tabs and posting them to YouTube. It got some attention and so I kept going!!! It has been a true motivator to continue playing the ukulele.
Living or dead, who would you most want to have dinner with?
Ernest Shackleton. The Antarctic explorer who was responsible for his crew after his ship ran aground. This guy had to make difficult decisions and stick with his guns. If you don't know who he is look him up. He was resilient, courageous, brave, and a true hero. I'd love to pick his brain.
Is your family musical?
My sister is. She's just recently graduated high school and is an incredible singer/songwriter! My mother however is a math teacher and my dad is a painter. So creativity runs in my blood you could say. 🙂
Have you always lived back east?
I grew up in Utah, just south of the Idaho border. Met my wife there and when she got into her Masters program in Boston, we picked up and moved! Boston is a great city and we want to spend more time here so we're staying for now.
Are you a good dancer?
Depends on who you ask and how drunk they are. I'm terrible. A terrible terrible dancer. So I just snap my fingers to the beat.