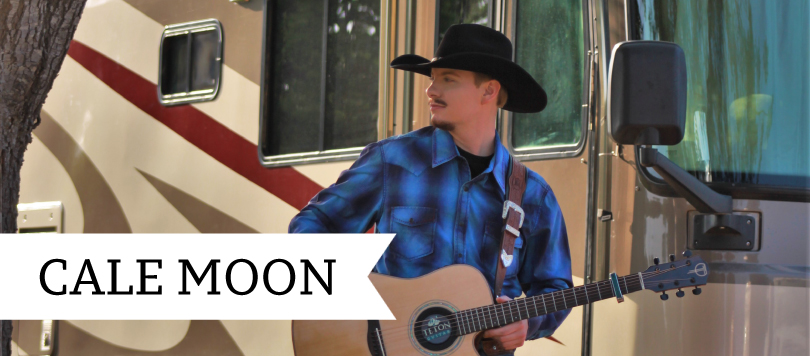 Cale Moon was introduced to Teton Guitars by Hill Music (in Casper, WY) while out touring. Soon after, he reached out to us and stopped by Basecamp to check out more models. He couldn't leave without a Ziricote 160 model in his hands, and we couldn't let him leave without being part of our Teton Artist roster. Hanging out with Cale in the studio that day, I don't think we stopped laughing once. What a talent he is too. Have you caught him live? It's quite the show!!

–Jenn  (send questions or comments to team@tetonguitars.com)
How long have you been playing guitar?
10 years as of May 1st, 2019
Was it your first instrument?
My first instrument was technically piano. I took my first and only piano lesson at 5 years old and I took to it quickly, but never really loved it. I played for a couple years and then forgot about it for a long time. It wasn't until after I'd been playing guitar for several years that I picked up piano again (as well as a few other instruments) and became moderately proficient. The guitar is the instrument that unlocked the music for me and is my instrument of choice.
You perform at a lot of rodeos and fairs. How is the energy different there versus a bar or other indoor venue?
Night and day. Rodeos, fairs and venues like that are a full-on concert. I have more control over the performance and the energy level from the crowd is through the roof!
Bars and other indoor places are more of a party so I open it up to requests for most of the show. My job there is to keep people on the dance floor and having a good time, so the pace stays pretty fast. Both have their own special energy about them and I enjoy playing both kinds of shows.
Is your family musical?
Sort of, not really though. My dad and sister have amazing voices and we used to sing 4 part harmonies with the radio quite a bit. My sister and I are the first in my family to learn an instrument and perform on stage.
Star Trek or Star Wars?
Star Wars! Not even close.
Pizza or Tacos?
Pizza
Wine or Beer?
Depends on the occasion… but mostly beer.
Favorite place to sightsee?
The Oregon & Washington coast. I'm a big history buff so I love exploring the old forts up and down the coast. Fort Stevens is my all time favorite! It's got big guns and lots of them!
Living in a bus can be rough and confining. How do you combat the feeling of being stuffed into such a small space?
I actually took to it seamlessly. It's smaller by square footage than most are used to but it's an efficient layout so it actually doesn't feel small to me. Plus, I have a built in surround sound stereo system, so I can check my studio mixes in any room I want to!
Where did you grow up?
I never did.
Favorite album of all time?
Everything Is Fine – Josh Turner
An album you could start EVERY day with?
Um…. Everything Is Fine – Josh Turner
Best show you've ever played?
July 3rd, 2018 at Dad's Bluegrass Campground in Franklin, Kentucky. It was the worst day of my life. My wife sent me divorce papers 3 hours before my show, and I guess to hide my shattered heart, I gave the most all-out performance of my life! That was the first time I jumped off the stage and ran the room while playing my final lead… a tradition I've continued at nearly all my stage shows ever since.
I felt like I had nothing left so I laid it all on the stage that night. According to everyone there, and the videos and photos taken that night, it was the best show I've ever played.