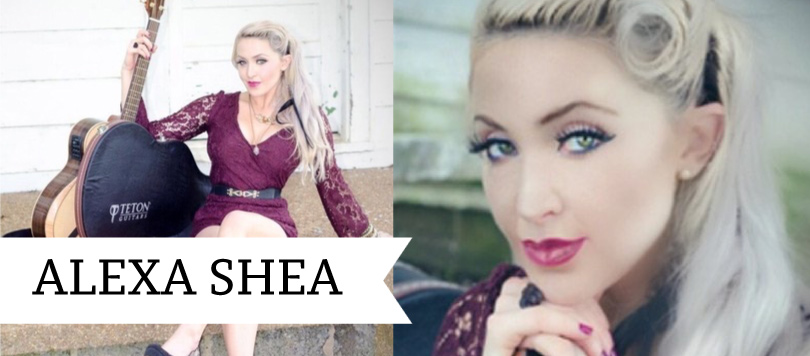 While Alexa and I have never met in person, she is one of my all time favorite people to interact with be it email, social media or via text. Her radiating, positive personality is infectious, even from behind a screen. Learning more about her was a lot of fun and I know we'd be best of friends in person if only she didn't live in Tennessee and I in Idaho! For even more info about this talented gal… visit her full bio.

-Keep Strumming, Jenn

Questions or comments can be sent to team@tetonguitars.com

I know you've been playing music since childhood. What inspired you to start writing your own songs?
I grew up with a tremendous amount of pain and I felt so isolated and different from the kids I grew up with. I was desperate for a way to communicate with "the outside world" and I found music helped me to express myself in a way that I was able to connect with people on a heart-level. Plus it was emotionally and spiritually healing for me! Music was my soul language and my portal to a divine love beyond understanding! Often the songs I wrote felt like channeled answers to my prayers. It was the way I communicated to what many would call "God".

How did you discover Teton?
I had the fabulous opportunity to perform at a cancer benefit in Idaho. Before the event, the other musicians and I were lucky enough to get to play the guitars at the home we were staying in and then we got to play on one for the show! The story, the message and my connection to the Tetons and all the magical memories I made there caused me to fall in love with the signature Teton sound! They are so beautifully crafted and I felt it was truly like playing a piece of art… which now I get to use to create my own art! I'm so blessed to have found such a virtuous wonderful company and the people are so heart centered and truly wonderful!

Is there a spot you frequent when writing new tunes?
Yes. I have… in my home… a "unicorn crystal cave"! Basically it's everything wonderful, inspiring and colorful in a room of my own. My husband is a great sport – we recently swapped his theater size man cave so I could expand my creativity and now I'm in the process of redecorating and getting ready for my next creative projects. I'm having so much fun with it! I'll definitely have to send pictures.
Can you tell us about the process when you're writing? Do you start with music or lyrics?
When I first started, I received lyrics at light speed. It was all very poetic to begin with and then I'd create a melody a cappella and then sing into an old tape recorder or call my house and leave singing voicemails so I wouldn't forget. Then I'd plunk out the melody on the piano and I eventually taught myself how to play piano and guitar which really expanded my musical options! Now I'm having so much fun track building and creating new & different chord progression which has seemed to inspire the melody. After that, I just click record and start singing stories… sometimes for up to 20 minutes and then I usually have my song somewhere in there. After that is the more technical part of songwriting. For me though, all the honest "feels" have to come first because if it's not my heart speaking, it doesn't feel like the holy alchemy that music can be for transforming pain into power! I find I am inspired to write the most when I have big emotions. Good emotions or seemingly hard to deal with specifically. Music helps me process my life and gives me a greater divine perspective and such a sense of relief once I get it all out of me.

Also, I'm really drawn to new instruments these days. I feel that each one can open a new realm within yourself. Currently, I'm teaching myself how to play the violin! It's fun and fantastic! Not quite fantastic sounding yet… but I'll get there. Haha.
Do you prefer writing alone or with someone else?
I have to be sooooooo close with the person or have incredible spirit chemistry with them because songwriting is so vulnerable and exposing. It's important that who I write with honors the higher essence of songwriting. I feel it's our artistic responsibility to put something authentic, inspired and true to who we are into the world.

Since writing is so spiritually sacred for me, I've been drawn towards writing alone but recently I've been given the opportunity to teach and help other artists to write music! That often works best through some form of collaboration. It's new, but I'm enjoying it!
Where's your favorite place to travel?
Ohhh… lately Miami and cancun. For some reason I'm all about alligators, margaritas and neon. Woohoo!

Your husband is a hockey coach and you're a musician. How did you meet?
We met at Utah State University after I transferred to their guitar department from Berkeley College of Music after my 6th record deal fell through. We met at a party and kept in touch while he was in Europe playing hockey. When he got back we just knew we were soul mates and it's been happily ever after since then. He is the best decision I've ever made. I thank God every day for my amazing Ty. He loved me back to life in so many ways and has made me the happiest woman I know. I'm so lucky… no it's beyond lucky… I feel so blessed! It's amazing to me how I thought, at that time, that my life was falling apart… but really it was all falling perfectly together.

Biggest musical influences?
Michael Jackson (random I know). My obsession started after I had a dream about him. In my dream we performed together and became one. After that, I went on a journey to discover what music could do with my life. I was so inspired by my dream that I wrote my first song that year!
Favorite person to co-write with?
Still figuring that out…

Pizza or Tacos?
Hmmm… if they are from cafe rio then tacos all the way! If they aren't, it's pizza for sure!

Favorite color?
Purple!