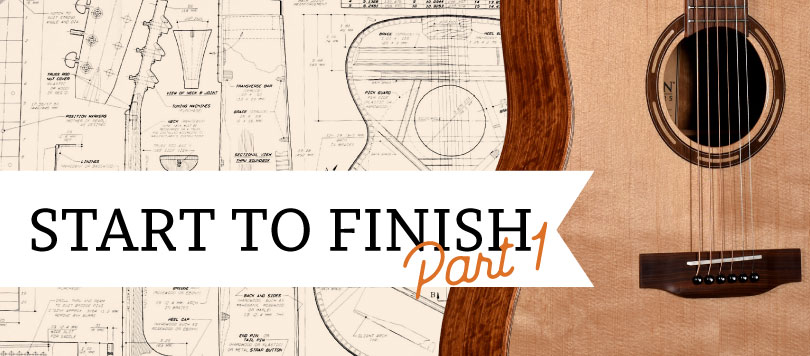 There are many components and materials that go into making a Teton guitar, but did you know there's a whole process outside of building the guitar that happens to get it into your hands?
I'm going to walk you through the process, from top to bottom, left to right, Idaho to China and back again.The idea – let's build a guitar!
The idea – let's build a guitar!
The design – what should it look like?
Drawing out bracing structure, picking wood types, hardware color and style. Details such as binding, fretboard markers and inlays, soundhole rosette, etc. Every detail and component is discussed and decided on. These detailed spec sheets are sent to the factory for prototype production.
3. The prototype – let's test it out and make any changes needed.
These take 2-4 months to get here after an extended design process. In case we want to make changes to the 1st prototype we need to allow another 2-4 months for prototype 2.0. When thinking about 2020 models Ben started talking to the factory at the end of 2018. We have to keep all of the exciting things we're working on secret(ish) for about a year
4. The purchase order – we like it, let's order a bunch!
Purchase orders are a challenge. You are trying to predict which models people will want in the coming months. Sure, the top sellers are easy, but then there is a run on 12 strings that you were not expecting. Finding the balance so inventory levels are healthy is the toughest part of purchasing.
5. The production – waiting for guitars to be built.
This is probably one of my most important, if not THE most important step. Many of the processes on Teton Guitars are done by hand and it takes several months for the instruments to be built in our factory overseas.
6. The marketing – how are we going to let you know about it?
While production is being done, we begin to market the new guitars. This could be through social media, our website, magazine ads, video content and more. We want YOU to know about what's coming out so you can buy it. Photos are taken of the finished prototype to create these materials. Information is sent to stores so they can begin ordering and have those fresh models when you walk into their shop.
7. The shipment – they're on the way!
Guitars are packed in large shipping containers which are 40 feet long and 15 feet tall. These are stacked on huge ships and begin making their way across the ocean. Once they've reached port on the western coast of the USA, the customs process begins. After being cleared and unloaded the product is stacked in a semi truck. That truck will head east as they begin the journey to us in Idaho Falls, Idaho
8. The receiving – let's unload a truckload of guitars.
This is quite the process, with metal tracks being loaded into the trailer and cartons containing 6 guitars each begin whizzing down the line. Our crew of 6-8 people make short work of this task as guitars are being rushed into our guitar warehouse. An additional crew member counts the boxes and then checks the contents against the original purchase order. This information is updated in our system and product now shows in stock.
While you wait for part 2, keep strumming!
-Jenn
Send questions or comments to team@tetonguitars.com