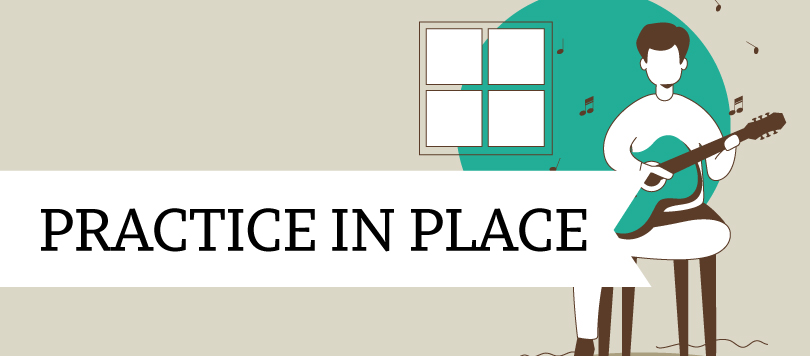 Years from now we may look back on this point in our lives and not think much of it. But as I sit in State mandated isolation the feeling is surreal. It feels like books I have read and movies I have watched, except I am out in a tiny subdivision in Idaho and do not see the full effects and fear of the COVID-19 virus. Obviously, it has affected me. I am working from home and my kids are here because their school is closed. I read the news online and watch videos on YouTube. I feel the stress, maybe differently than some people, but I still feel it.
Because of the stress I needed to find an outlet. For that I turned to the one fall back that has always been there for me. Since I received my first guitar when I was 12 and even before that on the radio. I turn to music.
Each day that I have been home I take time after I turn off my computer for the evening and I play my guitar. Sometimes I play along with an album on my phone. Sometimes I just noodle around.
The last few years I have not played much guitar. I am around it all day. It is my career. I perform once a year in an indie-folk band and we practice two weeks before the show. Maybe I didn't really need my guitar.
That is no longer the case. I need to strum some chords. I need to play a little lead. I put on heavier music to get it all out and then I play something nice and slow and reflective to remind myself to enjoy this moment.
I don't record myself and post it to social media. That is not my thing but I have watched others do that and appreciate it. Using music to calm fears and anxieties, to combat stress and frustration. That is what it is all about.
So during this time when most of us are under shelter in place orders or self directed quarantines let us use music as a way to heal and uplift. Take some extra time with your guitar or whatever you play and enjoy those moments. Even if no one else hears you, you have heard it.
— Ben
ben@tetonguitars.com – please send comments or questions
———————————————————————————————————————————————————————————————————————————–
I don't play the guitar, aside from a few chords that my husband patiently taught me and I painstakingly try to remember and piece together into some sort of a song. It's not anything anyone would recognize, but it gives me something different to focus on. I have played the piano since I was 6 and am grateful to have the piano I learned on now in my own home. Like Ben, I've turned to music each day. It's a distraction, it's grounding, it's a constant I can rely on.
Instead of learning a new piece or song, I'm focusing on familiar favorites, especially classical tunes. Things I learned years ago and barely need the music for. It's encouraging to know that I can open the lid of the piano and not feel stressed. Time passes quickly as I run my fingers up and down the good old ivories and before I know it an hour has gone by. It's like I'm transported to another world, one without tragic news headlines, stress or sadness.
I hope wherever you are that music is finding a place in your day and that it's bringing you some peace. Don't play an instrument? Not to worry, there are many talented musicians sharing their music online. You can catch some of our Teton team under our events tab on facebook.com/tetonguitars.
Keep Strumming,
Jenn
team@tetonguitars.com for questions or comments