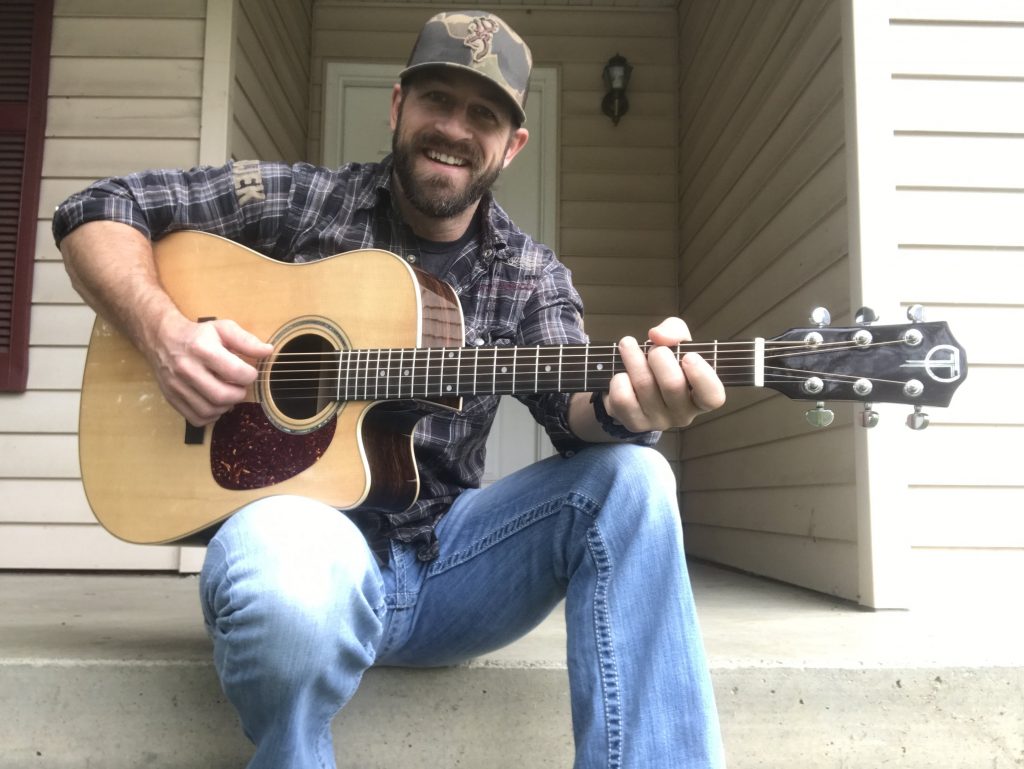 • Plays the STS180CENT
• From Nashville, TN.
I'm extremely impressed at the richness of the tone, the clarity, and the projection of my STS180CENT. Having exclusively played a vintage Gibson for the last number of years I was surprised at the mature characteristics, playability, and balance of this guitar and I love playing it!
American singer/songwriter Kyle Jennings arrived on the music scene in 2004 when his album "Shine" was released on Dark Horse Records Nashville. Out of the box, Jennings music made an explosive first impression likely due to cross-genre rock influences such as Journey, Billy Joel, Bruce Springsteen, and Tom Petty and the Heartbreakers. A gritty mix of Americana, rock, folk, and blues influences and a deep-rooted traditional country stronghold have always been characteristic of Jennings musical style.
Discovering an old Yamaha guitar underneath his grandfather's bed when he was in his early 20s, Jennings started to teach himself guitar and began writing songs and performing. In a short period of time, Jennings was entertaining crowds around southwest Michigan. He began making trips to Nashville and in the summer of 2002 relocated to Music City.
In the spring of 2003, Jennings was introduced to steel guitar whiz and producer, Bruce Bouton, and the two began work on Jennings first record. Immediately following the release of "Shine," Jennings took to the road with a focus of developing as a live performer. He would spend the next few years traveling across the country sharing stages with acts from Hank Jr. to Styx, earning a reputation as a passionate and rambunctious high-energy live performer.
Jennings songwriting was recognized worldwide when his solo-penned "Can I Run in the Dark (and Still Walk in the Light)" was selected as 1 of 15 finalists in the country category of the International Songwriting Competition in 2005, a massive competition that commonly receives 15,000+ entries each year.
Jennings released "Long Black Cadillac" in 2008. Explosive and diverse, much like the first release, his second album included an array of tones from his signature rootsy country-folk ballads to the guitar-based rock anthem title track as well as a version of Zac Brown's "Whatever It Is." Working stages together, Jennings and friend and musical collaborator, Kevin Post, realized a unique live chemistry and recognizable vocal match. They continued to write and began focusing on acoustic shows with Jennings carrying the bulk of the lead vocals and rhythm guitar and Post supplying his deep blues influenced guitar licks and soulful background vocals.
In August of 2016, Jennings released "American Vinyl", a masterful American musical journey written and produced by Jennings. His first fully self-produced project, "American Vinyl" and its 13 tracks sweeps listeners through small towns and down back roads, to the heart of the spirit that makes up the American way of life. "Jesus, Jack Daniels & Me," the debut single from "American Vinyl," also served as Jennings' first music video and received 100,000 views within the first few weeks of its launch.
Although primarily recognized as a country artist, Jennings music is quite diverse. His infusion of blues, folk, rock, and country have provided him a broad spectrum musical platform and his small town stories and affection for the American way of life has become signature in his work.  He currently tours the US both acoustically and with his band performing venues ranging from the smaller honky tonk circuit to massive fairs and festivals and various live music venues coast to coast.