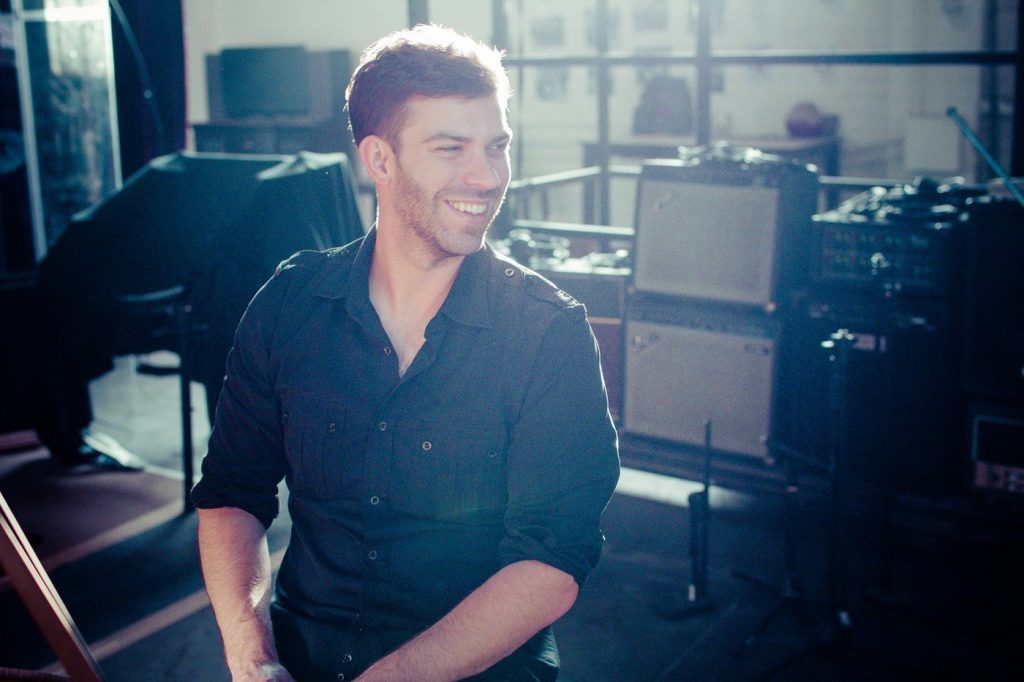 • Plays the STS130FMNT, STG105CENT, STS205CENT and TC05
• From Los Angeles, California
Teton guitars have what I consider to be the ideal acoustic sound. They project well, handle strumming and finger style with ease, and have a very balanced frequency response. You aren't sacrificing bass for smooth highs, and the often troublesome mids sit perfectly in between. These guitars sound many times more expensive than they are, and are an absolute joy to play.
Kit Nolan is a multi-instrumentalist, singer, songwriter, and producer. He began playing piano at age 9 and soon began to learn the bass guitar, guitar, drums, saxophone, ukulele, mandolin, harmonica, and honing in his vocal technique. He wrote his first song at age 11, titled "Reflection in the Mirror." It was a blatant rip off of Michael Jackson's "Man in the Mirror," but the song writing fire was lit. Although his concentration was largely on baseball throughout high school, he still spent virtually every night writing songs. At age 16 he acquired a digital 4 track recorder, and began to learn the art of production and arrangement.
Once injuring his pitching arm, Kit turned his attention completely to music, and enrolled at San Diego State University majoring in Electro Acoustic composition. It was here he began to learn computer based production programs and created richer and more in depth recordings. After graduation, Kit drove up the 5 freeway and found himself in Los Angeles. He worked to form relationships with producers and musicians and within a year was making a full time living with music. He played many of the local LA clubs, including the legendary Whiskey A Go Go, Viper Room, Troubadour and many others. He also began to head out on smaller tours, playing indie music festivals such as the Las Vegas Indie Fest, SXSW, and CMJ. Even though many of the clubs were small, Kit began to fall in love with the road.
In 2012, Kit landed his first international work, recording for international super star Robbie Williams. The song was "Candy" and was a chart topping #1 hit in the U.K. From there he landed sessions with One Direction, Raury, Saint Raymond, Lissie, and many others. This steady stream of work allowed Kit the opportunity to final do what he loved most; record and release his own music. In 2013 he released his debut EP "Any Given Destiny," produced and engineered by Grammy Nominated producer Math Bishop.
In 2015 Kit was asked to join the incredible Lindsey Stirling as her keyboardist/guitarist on the road. Playing legendary venues such as The Greek LA, Red Rocks in Colorado, and The Dolby Theater, Kit found himself playing to thousands every night. In 2016, while Lindsey took time to record her album, Kit decided to record his own full length album as well. In August 2016, "Nothing Subtle (…and scene)" was released. This album was a true indie album. Not another human being touched the making of the album. Kit wrote, performed, recorded, produced, mixed, mastered, and released it all himself. The result is 11 songs that are as true to his artistic vision as he could possibly conjure. This album featured many moments with acoustic guitars, and only Tetons Guitars were used.
Kit continues to tour the world with Lindsey Stirling, continues booking recording sessions, and most of all, continues writing for the next project to be soon recorded.