What a great night for everyone who came to be inspired at Teton Guitars 5th Anniversary Concert the evening of 27 October, 2016 in downtown Idaho Falls. Before the concert started, Tana Stahn, CEO, and Ben Parker, Marketing Manager, presented a check to the Teton Cancer Institute (TCI) of Idaho Falls. The money comes from the successful "Teton Guitar Pink Campaign" guitar auction, employee donations, as well as matching funds from Teton Guitars parent company, Chesbro Music Company.
Teton Guitars is tickled pink that TCI will be using the donation to single out local patients in Idaho Falls and the surrounding community who are currently undergoing breast cancer treatment and need help paying their medical bills.
After the presentation, Mr. Parker introduced popular Teton Guitar Artist, Craig Green, who performed a set on his STC155CENT. The evening commemorated Teton Guitars 5th Anniversary with the long-ago-sold-out 5th Anniversary model on stage. Danny Heslop, named best new artist by Utah Music Awards, then performed a set from his new album on a STS105NT. And, the Red Clover Rovers finished off the concert on a STA200NT, a STS205CENT, and a STB130FMCENT Teton Guitar. The performers all excelled at highlighting the unique sound, tone, and volume from each guitar model brought on stage. At the end of the evening, those in attendance were given the opportunity to get a sneak peak of the Teton Guitars lineup for 2017, which will be shown at The NAMM Show in Anaheim, CA in January, 2017.
Photo on the right: Red Clover Rovers performing on stage (Top) and Danny Heslop performing on stage (Bottom).

— Ben
Please send comments or questions to ben@tetonguitars.com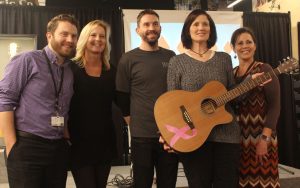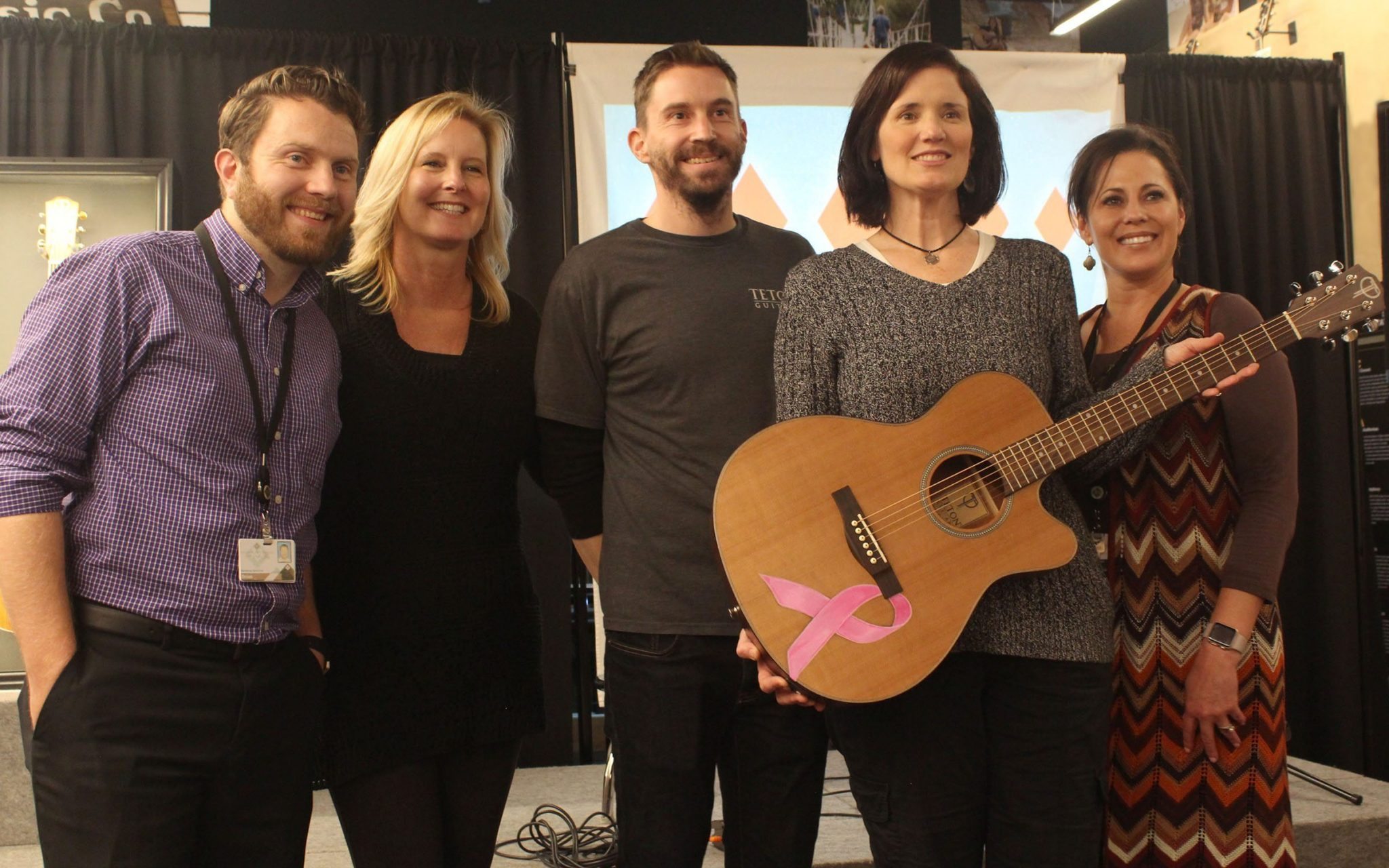 Photo Below: Ben Parker of Teton Guitars, center, is flanked by Teton Cancer Institute representatives Brian Ziel and Lisa Anderson on the left, and Mimi Taylor (holding the auctioned Pink Campaign Teton Guitar) and Cherie Webster on the right.