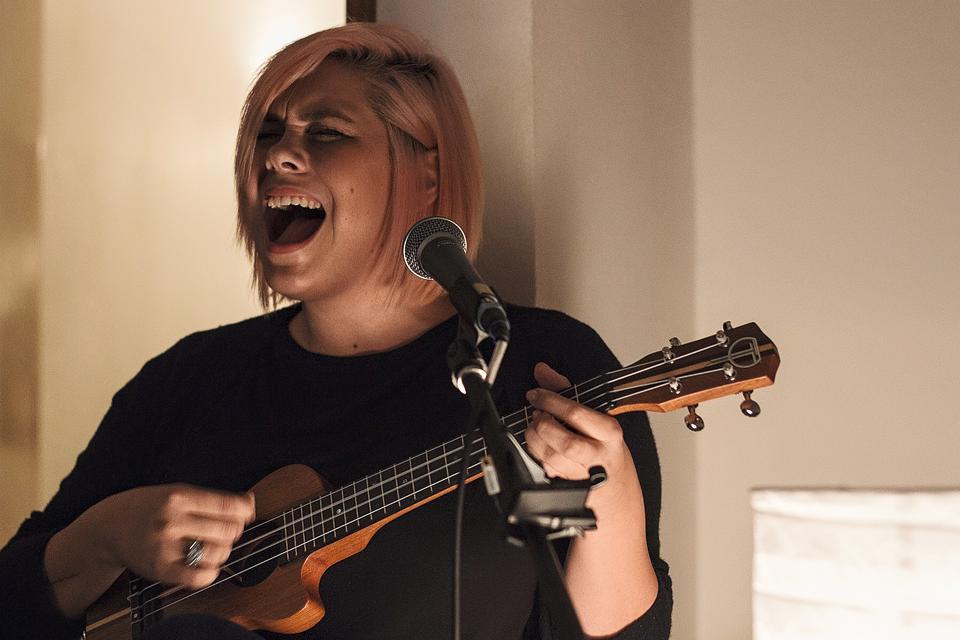 • Plays the STEU102T Solid Body Electric Teton Ukulele
• From Los Angeles, California
I love my TETON solid body uke because it's such a solid piece, it feels sturdy on the road, and with on body tone and volume controls I'm able to keep my sound where I want it for every song without having to depend on the back of house. Not to mention the wood strip detail is so mid-century, it matches my aesthetic for ukulele in indie folk music.
Hope Leigh is a singer/songwriter currently based in Los Angeles, California. After growing up in rural North Carolina, Hope attended the Duke Ellington School of the Arts. She obtained a BA in Music and theatre from American University in Washington, DC.
Hope became an ambassador and weekly resident performer at the non-profit arts center, Bloombars, in Washington, DC. She was also a music ambassador for the Humanitarian Non-Profit "Samaritan's Feet??? and made multiple mission trips, which included Malawi and South Africa, to provide children with shoes and performing music in local villages.
Upon arriving in Los Angeles in 2010, Hope created the indie-folk duo, Me and Mr. Cassidy. The duo went on to win Sony Records Talent Search November 2013. As a band, they released one full length record in 2010, one EP in 2013, and two singles in 2013 and 2015. "I Would Love You So??? went on to win the coveted 2013 LA Music Awards "Pop Album of The Year??? after being nominated in three categories. Also awarded 'pop EP of the year' for the 2013 Los Angeles Critics Awards, a finalist in LA WEEKLY's "Best Live Band in Los Angeles", listed in LA Examiner for "Top 20 bands to look out for in 2012″, again in 2013 and "Top 15 Live LA Performances of 2011″. MAMC did a United States tour in the summer of 2013 and had various appearances and play on NPR, College Radio, and Sirius XM. Their music video for "Save For Now" starred model/actor Michael Turchin and Fresh Prince of Bel Air star Tatyana Ali.
Hope has a long list of accomplishments, including being the past Music Curator/Director of Tuesdays at 9 LA; holding a weekly residency at Sage Bistro in Culver City from September 2013 – March 2015; she's a member of the women's charity "I Am That Girl" empowering women and girls worldwide, and performed at their first ever retreat in the fall of 2014. Hope gave a TEDxTALK Performance in Santa Cruz, CA, March 2014, discussing her intent to add pop melodies to folk music to bring story telling back into radio play; she performed "What a Wonderful World??? at Pop Star Lance Bass' wedding in December 2014 and was featured in the E! Special "Lance Loves Michael;" February 2015 she appeared on Jimmy Kimmel Live! for her first appearance as a band member for British Pop Star Chari XCX; the spring of 2015, Hope became Teton Guitars first and only Ukulele Endorsee. She took this uke on her first solo European Tour March 2015 which included stops in Holland and Germany as part of the Utrecht LRC concert series.
Just this spring, Hope released her first solo single since 2009. "Home To Me" features a star studded music video including Lance Bass, Tatyana Ali, Sadie Robertson, Andrew WK, Damienne Merlina, Jumoke Hill, Alex Preston, Insider, Soul Pancake, Andrew Carpenter, Matt Diaz and over 250 global submissions – and garners support from dozens of national news outlets.
Home To Me was released in conjunction with the creation of Hope's passion project, The DanceFree Movement. Hope and a group of women in Los Angeles created the mega viral #FINDDANCINGMAN and Hope spearheaded and planned the #IAMDANCINGMAN Party with appearances from Monica Lewinsky, a presentation from Pharrell and a DJ Performance from Moby. With appearances on Good Morning America, The Today Show, Good Morning Britain, Local LA CBS, NBC, FOX11, ABC7, Ryan Seacrest, AMP Radio, KROQ, and write ups from TIME, MTV, Billboard, Entertainment Tonight, BBC, People and more, the story spread worldwide and created a massive campaign for bullying prevention and body positivity and fund raised over $70,000 for various Non-Profits around the world.
The summer of 2015 brought Hope releasing her first solo EP in nearly 6 years, produced by Will Noon (Fun. & Nathan Harold) with appearances from Mike Garzon (Hello Goodbye), Emily Moore (Fun), Justin Klunk (Ariana Grande), Luisa Lee (Michael Buble), Ryan Amador, and more with accompanying music videos for each track.
Hope has performed with Grammy award winner Jazon Mraz, Keaton Simons, Bushwalla, Emily Moore, Will Noon, and Nate Harold (of Grammy award winning FUN.), Grammy nominated Christylz Bacon, Mike Garzon (HelloGoodbye), Charli XCX, Justin Hopkins, The Magic Giant, Dawn Mitschele, MakePeace Brothers, Matty & Avasa Love, Alysse Fischer, Justin Willman (Cupcake Wars), Jessie Payo, Justin Huey (Steel Train) and others.