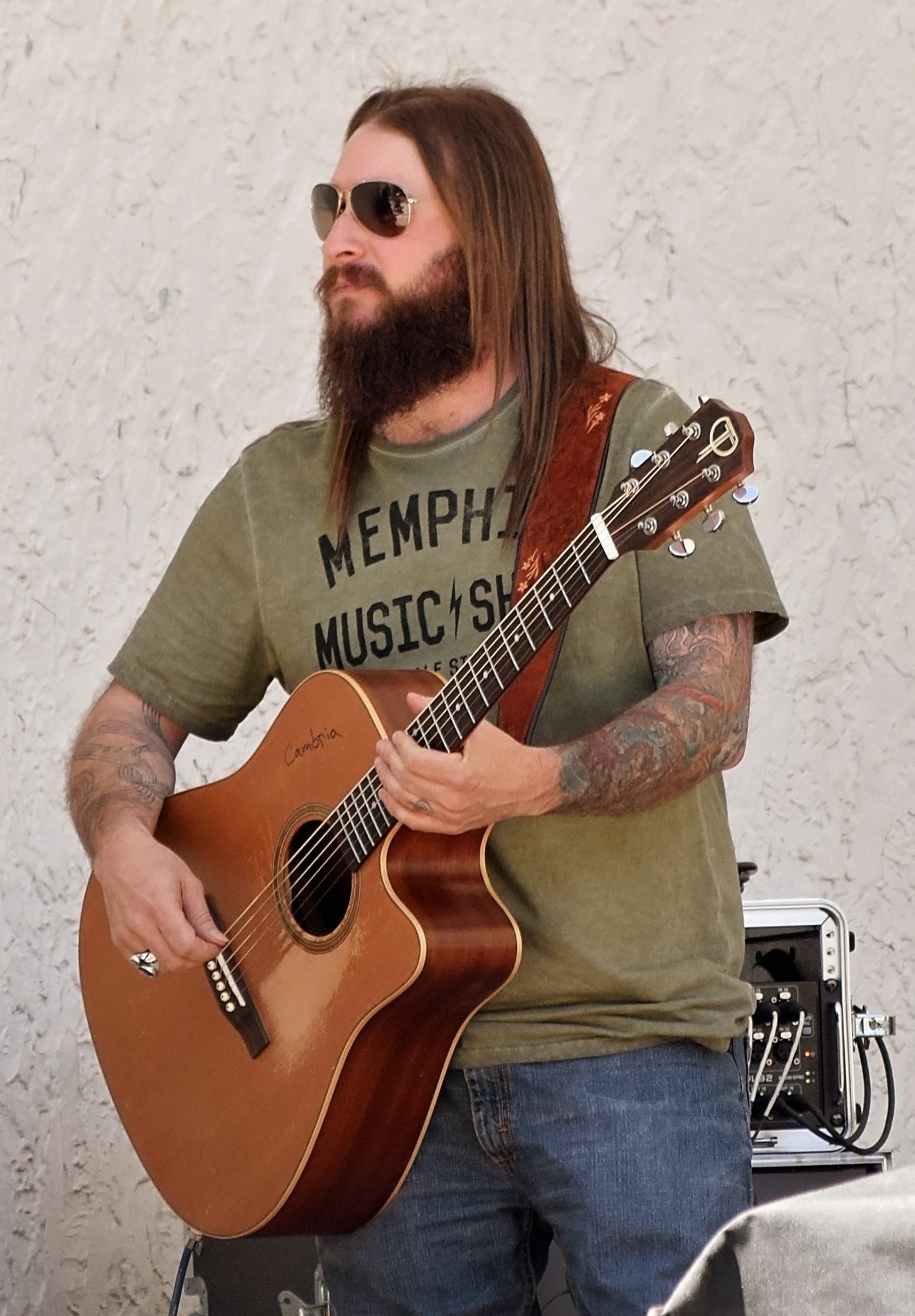 When I moved to Idaho in Feb of 2016, I needed a new guitar.  I was in the studio in Wyoming at the end of 2015 and went to put my Taylor on my guitar stand but missed… Needless to say, the fall broke the backboard and split it from the body.

Once in Idaho, my wife and I went to the local music store, Music Center in Twin Falls, to buy a new guitar as I had performances coming up and didn't have a guitar that would work.  Right in the front of the store was a display of about 15 or so Teton guitars. I had never heard of Teton Guitars before and immediately was drawn to their good looks.

I decided to try one out and picked up the STS105CENT.  I really loved the way it felt just to hold it. Then I played the first chord…. I was sold!!  The sound that came out of that guitar was the most beautiful, warm, rich sound I had ever heard come out of a guitar!  I sat and played it for a few minutes and gave it a good look-over. The quality of craftsmanship was impeccable, an absolute beauty!  I could tell that this guitar had been built with love and honor.

I love my Teton! It inspires me every time I play it and it also inspires others who hear it.  I have people at every performance compliment the sound of my Teton. Several of my friends have gone to Music Center and purchased their own Teton after hearing and playing mine… and that's what I call Teton love! So proud to be representing an amazing guitar!
I'm so grateful to be a member of the Teton family. It's a cool feeling when I go into a guitar shop and the owner says "Hey! You have a Teton, I really like these guitars!" The Teton name is spreading like wildfire! And more than that, it's association with QUALITY is spreading too. Quality sound, quality people. That's Teton!
Growing up around music was an essential part to who Eric May is now. His mother, Maureen, and father, Robert, met in a rock band in the late 60's. After leaving the group, his mother became a music teacher, focusing on vocal and piano. His father became a DJ at a radio station and eventually became a General Manager. After school, Eric would help himself at the radio station to all the music that was available, listening to the likes of The Beatles, Johnny Cash, Credence Clearwater Revival, and James Brown.
Eric would spend his summers in Missouri with his Grandparents. This is where his love for country music came from. Receiving his first guitar at age seven, Eric quickly became infatuated with the instrument. Already singing, he found that moment that defined what his future would be…music. One summer, his Grandpa, Ronald Andrews, packed 10 year old Eric and his guitar into the car and headed out. Two hours later, they arrived at the Barn Door Opry House in Ravenwood, MO. Somehow, Eric ended up on stage and played "House of the Rising Sun" by the Animals. This was his first performance in front of a sold out house and it was stellar…for a 10 year old!
Eric participated in music throughout school, involved in choir, band and orchestra. He started to play the Trumpet in middle school and it was obvious he had a knack for it. He competed in many competitions and won numerous awards for his playing, even received a scholarship to New Mexico State University.
After going to college and earning a degree, work was a priority. Eric made time to play and eventually the cards started falling into place. One night, he snuck into a small bar in Denver, CO, to hide in the back corner and listen to the band. On break, the lead singer, Annessa Fast, noticed him and asked what he was doing. Eric explained his love for music and that it was the only place he could go to hear a live band. She offered him an opportunity to audition for her band. Eric played rhythm guitar and sang harmonies for Annessa for about a year when he was noticed and approached by the band Hot Posse from Denver. He traveled and played with Hot Posse for a couple of years then moved to Gillette, WY.
Eric started playing small solo acoustic shows and decided it was time to form his own band. After only two rehearsals in the living room, The Center Lane Band went to Casper, WY for Battle of the Bands and won! The bookings started coming in and before they knew it, the band had a steady workload, playing country and rock music all over Wyoming and South Dakota.
At the end of 2009, the band changed its name to The Eric May Band. Still playing bars and charity events, Eric and the band hit the studio for the first album.
In 2010, now under management by Russ Davidson, the band was invited to Nashville, TN to perform at the Country Radio Seminar at a band showcase at The Wild Beaver Saloon. After the showcase, they were approached by several industry representatives and recording companies. They spent the next day with James Williams, toured the studios of 3 Doors Down, and learned a lot about how things were done in Nashville.
The Eric May Band decided to not sign a record deal in Nashville but try to go a different route. Lynn Herron, a promoter and booking agent for Bryan White, Andy Griggs and Jamie O'Neil, got ahold of the band and scheduled a few shows together. It was nothing short of amazing! The band has also performed with many other national acts such as Thomas Gabriel, (Grandson of Johnny Cash), Andy Griggs, Jamie O'Neal, Jeff Bates, Ned LeDoux, FireHouse, Warrant, Darryl Worley, Western Underground, April Wine, Parmalee, Mickey and The Motorcars, Randy Rogers Band and Jason Bolan and The Stragglers to name a few.
The Eric May Band album was released and gained popularity. One of the songs from the album, "Chris", written by Eric and drummer Michael Norris, became a big song for the band. The song is a tribute to Chris LeDoux.
In 2011, bass player and now brother-in-law to Eric, Sean George, was diagnosed with cancer and had to leave the band. The Eric May Band decided it was best to call it quits.
Eric spent most of his time working and trying to start a family with his wife Mindy. A great job and a great wife, life was going great. He was asked by another band in town if he had any interest becoming their front man. Eric jumped on this as his passion for performing was not being satisfied. He started rehearsing with the band Facelift, and brought his lead guitar player Zach Dunham along. After about a year passed, Sean had fought cancer and was in remission. He wanted to get the band back together! Soon, the same members of The Eric May Band were back together, with a new name, Rebel Raised.
In 2012, Tin Star Records approached Rebel Raised and asked them to audition for them. The audition was a success and the record label signed the band, however the contract was short lived and both parties went their separate ways.
Rebel Raised started working on becoming an independent entity. Writing, playing shows and building a studio, the band was in full swing again. At this time, Eric began to focus on getting the band to the next level…booking bigger shows, new venues and getting the album done. After building a studio, Black Earth Sound, to record the band, the songs started to fly out! All the guys in the band worked extremely hard on the album, "Woodvine", which was released in 2015.
In 2016, Eric and his wife Mindy, moved to Idaho. He has played numerous shows in the area and is now looking to expand his reach by starting to tour the rest of Idaho. Eric built a recording studio, Studio 3950, at his home and released his first solo album, "Small Town Bar". His music is described as stories of heartache, happiness and love, pain and sorrow, excitement and overcoming struggles.
The next step for Eric…no one really knows but the future is looking good!