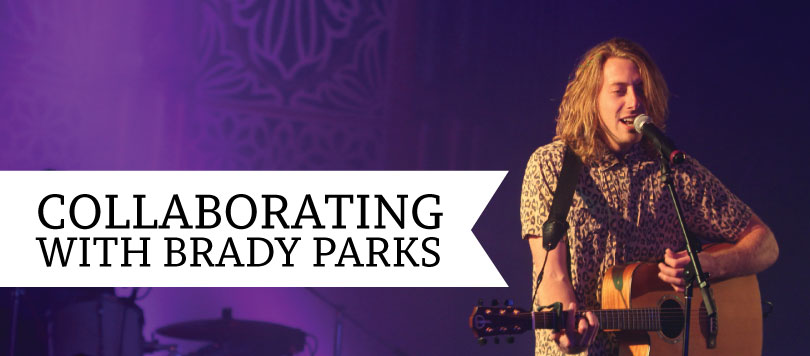 We are always looking for fun ways to involve our Artist Team and more importantly you, our fans of Teton Guitars. What better way to do both, plus an added bonus, than collaborating with Brady Parks on an awesome sticker design.
When I approached the well known frontman of The National Parks about designing something, he was all in. Not the slightest hesitation when I also suggested we donate all the proceeds to a good cause.
I had come across The Children's Grand Adventure while on Instagram one day, under #tetons, and couldn't wait to learn more. This group is doing amazing things with cancer survivors in our favorite place on earth.
Oh, and Brady's signature is on each sticker, and you didn't even have to wait in line for it! Grab a few of these limited edition, waterproof, dishwasher safe, heat resistant, bad boys before they're all gone. Heck, grab a few and give them to your friends.
Purchase a sticker + get cool swag + donate to a good cause = feel good
Read on for Brady's thoughts on this whole process and how he first became interested in creating amazing art.
Keep Strumming,
Jenn

How long have you been designing?
I've been designing since I was in high school. I would record music on garage band and I taught myself how to use photoshop to make album art. I had no idea what I was doing at the time, but I loved being able to create like that. When I went to college I studied advertising with graphic design and have been doing all the graphic design for The National Parks ever since.
Was it always an interest of yours?
Since I was a kid, I loved drawing and painting and really… making art of any kind. When I discovered graphic design I immediately fell in love with the process.
Why did you choose this foundation as the recipient of these proceeds?
When Jenn from Teton Guitars said she found a really great foundation that helped cancer survivors through exploration in Teton National Park, I was fully on board. The Children's Grand Adventure really is such a great organization with such a wonderful cause and I love knowing that the proceeds are going towards a foundation like this.
What was the inspiration for your sticker design?
When I think of Teton guitars, I think of beautiful design and beautiful sound. I wanted to incorporate a representation of a guitar in my design so I put 6 strings over the soundhole and then added a blend of the Teton colors behind it. It's a simple design but I love how it all came together!
Does inspiration strike you during a specific time of the day?
Inspiration hits me at all random times! There will be times when an idea strikes me at 2am and I stay up all night working through the idea. There are other times when I work all day trying to find inspiration and it never comes. It's all over the place haha. It definitely keeps things interesting.
Is there a space you like to go when you're working on a project?
I love going on drives while working on a project. I think it helps refresh my mind so that when I come back home, or to the studio to work, I feel ready to dive into everything.